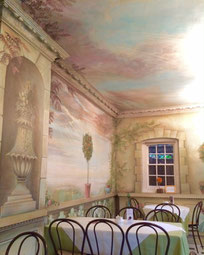 Tuesday Tea Tasting
I'm a fan of the fan museum!
I fully admit that I only went there to check out their afternoon tea - but hey, why not work up a hunger by learning a little? It's the only museum in the UK devoted to the history of fans and the art of fan making and is home to a pretty collection of fans from around the world, some seriously old ones too. Worth taking a walk around checking them out.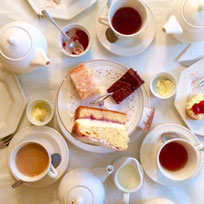 Now, on to the afternoon tea. In their stunning muraled orangery overlooking a Japanese style garden (it felt summery inside despite the pouring rain outside) they serve a small menu of Twining's tea and cakes. I was a little disappointed that their afternoon tea did not include sarnies but to be honest, I was full after my fluffy scone (with a good amount of clotted cream), classic victoria sponge, and seriously sticky and delicious salted caramel brownie. 
The setting is gorgeous, the afternoon tea small but sweet, and the fan museum a surprise delight. A great little hideaway in Greenwich.
Fan fact: Pictorial records show some of the earliest fans date from around 3000 BC!
Tearoom facts: Afternoon tea: £8
12 Crooms Hill, Greenwich, London SE10 8ER
Refreshments are only available to museum visitors. There is an additional charge for admission to the museum. Double check their opening times and admission prices here. 
---