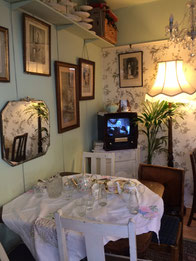 Tuesday Tea Tasting
Ever been to a vintage wonderland? Neither had I. But that is just what Hillman's Tearoom is - with a whole load of good tea poured on top.
In North London, E17, down a hidden alleyway (you wouldn't know it was there if you didn't know it was there) is this small tearoom.
Full to the brim with vintage crockery, retro furniture and mouth-watering cakes served by a tea lady in old school tea lady get-up. With swinging music and a flickering black and white TV in the corner, this time capsule is  a little vintage land you can lose yourself in.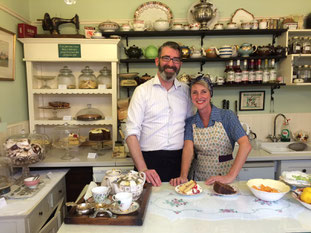 Off the delightfully long tea list I  tried Rose Congou China (a light fragranced flavour with rose petals) and  Mim 2nd Flush Darjeeling (a deep strong cuppa) accompanied by light and moist Lemon & Raspberry Cake and Carrot Cake. YUM!
Hillman's do what every tearoom should do; give you a large teapot and keep offering to top it up with hot water until you are totally tea'd out. It's this attention to detail that makes this tearoom extra special and in addition, Jason the owner has collected the beautiful pieces for years and will happily chat to you about his favourite teapot or chinaware.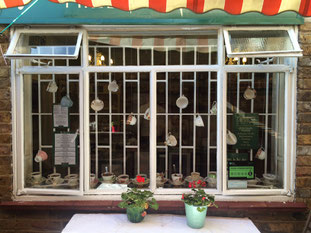 ---