Who says an afternoon tea should include finger sandwiches?! Not a slice of white bread in sight for CUTcakes & Tea, an untraditional afternoon tea with an unmistakably American twist!
For fine-dining-fun at CUT 45 Park Lane, Executive Chef David McIntyre was inspired by his fond memories of growing up in California to serve the BEST OF THE U.S. in delicious, surprising bites. But of course, while unique, the menu does include scones and clotted cream - I mean, they're not crazy!
Unlike most afternoon teas I've experienced, the food is served in three separate stages; good if you like to keep things neat and ordered, bad if you like to swap from savoury to sweet and back again – but go with the (beautifully-served) flow and you won't be disappointed!
SAVOURY American Bites  
Golden Corndog

- a guest dog created by restaurant Bubbledog's chef, Sandia Chang. An unexpected joy and oh that little kick from the Southern BBQ sauce!
Wagyu Beef Slider

- with s

hallot marmalade and cheddar. They're famous for their sliders here and I'm not surprised. Juicy, melt -in-the-mouth goodness.

Fried Chicken & Buttermilk Bisquets

- I loved this almost scone-like bun holding tasty chicken, coleslaw and jalapeño aioli  

Crab Cake

- loads of flavour with basil (bay-zil?) and tomato (to-may-to?) relish.
Tuna Tartare 'Sandwich'- with avocado and ginger has a spicy hit so enjoy it last!
SWEET American Bites (by head pastry chef, Niamh Larkin)
Banoffee Milkshake

- one of my favourite moments of delight! Truly scrumptious.

Scones

- like I said, they'd be fools to ignore scones served with clotted cream and strawberry jam

Pink Lemonade Cake Pop

- fun to look at, fun to eat! Moist cake with a marshmallowly crust.  

Crème Brûlée Doughnut

- oh my. Creamy filling in a squidgy, crispy ball of yum. 

Graham Cracker S'more

- yes, make the mistake I did and pop the whole thing in your mouth at once - it's squishy and delicious and the chocolate sauce is definitely more-ish! 

Peanut Butter Pie

- unmistakably American! 

Red Velvet Cupcake

- I have to say I was nearly defeated by this point but the raspberry juice hidden in the fruit was that last pop of fun that helped me reach the peak of my sugar high.  
DRINKS
Iced Tea, Hot Tea, Coffee or Hot Chocolate. They serve JING tea - one of my faves and I was happily sipping their Assam and Darjeeling throughout. (You can also pay extra for Rare JING teas, American beers or chilled champagne or American sparkling wine.)
CUTcakes & Tea is at the higher end of the London afternoon tea price range, but this is a serious treat in smart surroundings, and for the real foodies who love full-on flavours with a bit of fun – and you won't leave hungry! If you're a traditionalist looking for a slice of Victoria sponge cake you'll need to open your mind, bite into a burger and be transported to the good ol' U.S. of A.
Tea tip: The teapots are big so try and have the same tea as someone else so you only have to have one on your table at a time. You can refresh them any time if you want more or to try another leaf!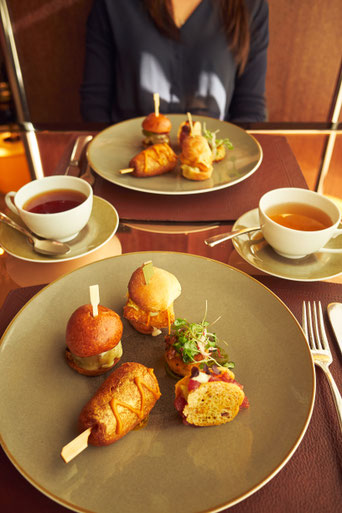 Need to know:
CUTcakes & Tea is served at CUT 45 Park Lane,
Mon-Sat 2.30pm, 
Sun 3pm
£55 per person (not including alcoholic drinks, or extra special JING tea)
45 Park Lane, London, W1K 1PN
+44 (0)20 7493 4545
---