In busy, buzzy Soho on the corner of Greek Street and Old Compton Street is the Bun House & Tea Room. Upstairs is a steamy street-food-style cafe serving Chinese steamed buns, aka bao (not to be confused with the popular bun-of-the-moment Taiwanese bao which are served open like a sandwich. Chinese bao are ball-like and sealed so that the filling is hidden.) At £2.50 each they are more filling then they look. I had the lamb (slightly spicy and very juicy) followed by a custard bun (salted duck egg, coconut milk and carrot juice) which was so messy but so tasty I was licking every spillage off my fingers!
Alongside my bamboo basket of pretty stamped buns was a teapot of oolong – bought from nearby Chinatown obviously. Refreshing, delicate with a light flavour, and just what I needed to wash down my sticky lunch.
I loved everything about this place; the fast food bustle, the smiling servers, the soft, bouncy, flavour-filled buns, my large pot of tea, the beautiful green tiled floor and all the Asian touches throughout the small space. I could linger there with my cuppa all day, just sipping and watching the activity of the place. 
Tip: if you're a glasses wearer be prepared - it's so steamy in there that you'll be fogged up for a while!
The Tea Room
Downstairs is a Hong Kong-style speakeasy, lit with neon green Cantonese lettered lights, it's a fun throwback to 1960's Hong Kong tea rooms and serves cocktails and a much longer tea list. It's a different food menu - no steamed buns and you can't bring them from upstairs down with you which I think is a shame. Because of this I only popped down to take a look but shall have to return to try their tea list which includes Uncle Cai's Fuding White Tea and Uncle Dong's Yunnan Dianhong Tea. It has a 3am license so you can satisfy your tea cravings well into the early hours (if you haven't moved on to the Rose and Lapsang cocktails by then!)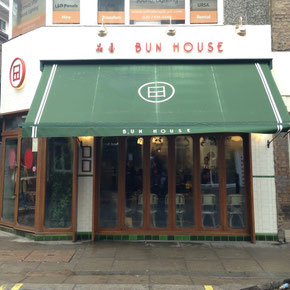 Need to know:
24 Greek St, Soho, London W1D 4DZ
02080179888
master@bun.house
Bun House has limited first-come-first-served seating only. (I went at 2.30pm on a Saturday and I didn't have to wait long for a table but be warned, I hear it can get very busy!) The Tea Room accepts reservations. Opening hours vary quite a bit so double check their website.
---