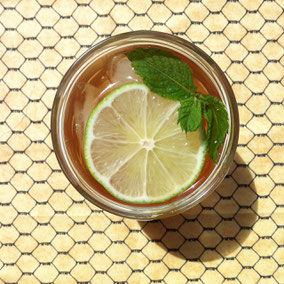 Tuesday Tea Tasting
My first cold brew! Well it is summer isn't it? Kind of - the English weather needs to sort itself out - but while the sun has briefly decided to pop out then it's about time I gave cold brewing a go.
Flavoured teas are supposed to be a good shout for cold brewing so I used London Tea Club's Apricot Peach (Ceylon black with dried peach, apricot and papaya pieces).
After following their instructions (like below) I had to wait overnight to taste my brew but, after loading it with ice, mint and lime, and finding a sunny spot, I thoroughly enjoyed it. It's refreshing and moreish. It tastes like tea but with a fruity edge and felt a little like I was spoiling myself with a non-alcoholic cocktail! It's definitely worth the wait.
How to cold brew tea according to London Tea Club founder Cecelia Lau:
Pick a brewing vessel - a large teapot with strainer works well, or use a couple of tea filters in a glass pitcher or thermos. (I used an old jam jar to make a small sample.)

Pick a tea - flavoured black teas are always crowd-pleasers, but green, white and oolong teas are surprisingly sweet and refreshing as well. Use 1 heaped tsp of tea for every 200 ml (8 oz) of cold water

Brew - place in the fridge overnight, or any 6+ hour period

Enjoy! Strain and serve with garnish: mint, citrus slices, berries and more. (I also added a smidge of honey for a sweetener, naughtier version.)
Did you know?
Cold brew showcases the delicate flavours of tea more effectively than hot kettle water and contains significantly lower levels of caffeine than traditionally hot brewed tea.
Tea tip: the tea will stay fresh in the fridge for days so worth making a big batch just in case the sun appears again!