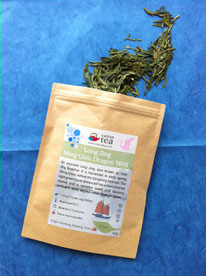 Tuesday Tea Tasting
Curious about Curious Tea?
Well, it's a monthly tea subscription offering two types of high-grade premium loose tea each month. You can pick your box...light, dark, or mixed.
I love the little tea cards included in each package which explain each tea and have a space for your own tasting notes! Apparently they took this idea from the collectible tea cards that were produced in the U.K. from the 1940's by certain tea producers for their loose teas.
My box included 50g of Long Jing Ming Qian Dragon Well (difficult to say but very easy to drink!) Their notes state that "Long Jing (龍井), sometimes Longjing, is perhaps the most famous and popular tea to come from China. It is often referred to by the 'Dragon Well' name, which is the literal translation of the Chinese name." 
(Take a look at my coasters which feature Chinese dragon tea sets)
The leaves look so fab - like scales of a dragon! And when brewed it's a lovely light green. I'm not the biggest fan of super strong green tea so I brewed it slightly quicker than their 2-3min suggestion and the result was a soft and sweet flavour.
Did you know?
One legend of the Dragon Well tea tells the story of monk imploring a dragon living in a well to come to the aid of villagers of an area suffering from a drought. With the dragon's help, the monk persuaded the villagers to pray and once they did, it miraculously started to rain.
Tea tip: You can brew this tea more than once so it's a great cuppa to sip all afternoon!