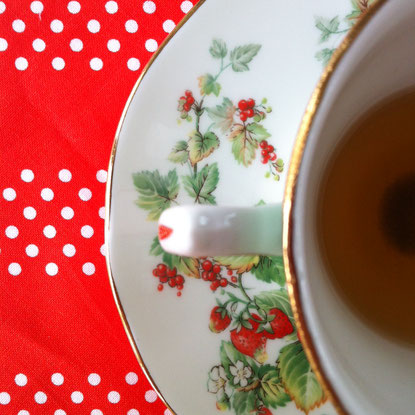 Tuesday Tea Tasting
Strawberry season!!
I love it when British strawberries are finally ripe and we get to enjoy them topped on a cream-laden scone or floating in a jug of Pimms on a sunny day. Well Tea Blossoms have taken it one step further and added the juicy British fruit to your English tea cup with their Aussie Green Strawberry tea.
Their bright, colourful packaging tells me that it's a green tea blended with rose, sunflower and orange blossoms, combined with the fruity aroma of strawberry and raspberry. It's light and refreshing and the strawberry flavour is actually not as overpowering as I had imagined. I'm thinking it would be perfect to go with your cream tea this summer (or even an alternative when you might have overdone it on the Pimms!)
Tea tip: this could be great as a cold brew tea garnished with slices of fresh strawberries.