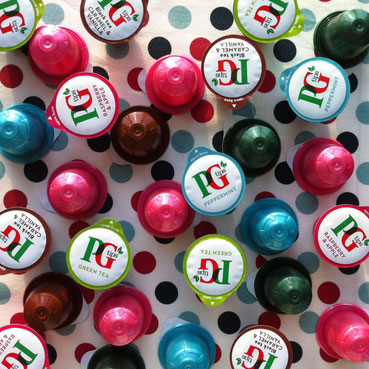 Tuesday Tea Tasting
I do love a builders brew. Don't get me wrong, loose leaf is best, but when my Dad makes me a cuppa it's PG Tips Pyramids or nothing.
So I was interested to try PG Tips new tea capsules - for use in a coffee machine, which as a tea drinker I don't own! And that wasn't the only reason these pods got the thumbs down...I'm going to be blunt, they did not taste good.
The Caramel and Vanilla was way too sweet and did not taste of tea at all.
The Green Tea was too bitter.
The Peppermint was a bit like toothpaste. 
I admit I didn't try the Raspberry and Apple.
And so Monkey, I'm sticking to your Pyramids, and 'Keeping It Tea'