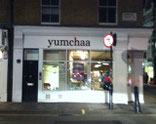 With all the coffee shops in Soho it's so refreshing to know that tea lovers have a place dedicated to their loose leaf needs! Yumchaa does this perfectly - it's got the cool Soho vibe but knows its stuff when it comes to a lovely cuppa. I've visited their Camden location before (see previous blog post) but when the London Local Etsy team said they were meeting there, well I wasn't going to not go!
I love that they have all their loose leaves out in jars for you to see (and smell). And because of this I went for the oh so pretty and aromatic Raspberry Vanilla Rooibos. It seemed like the perfect way to end the day - on a high and sweet note. The hint of berry comes through the rooibos and the vanilla adds a smoothness. Basically a tasty, caffeine free treat of a cuppa.
Tea Tip: it's a busy spot but the cosy downstairs offers a calm, relaxed atmosphere.
---