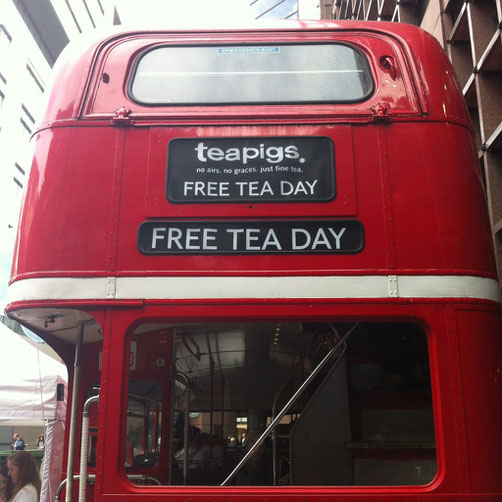 This week it was teapigs' 9th Birthday and to celebrate they gave out free tea on the 4th Nov in the UK and around the world...even Hawaii (that's a hot cuppa!)
And everyone has to have a birthday party right? So in the afternoon I was invited to join the teapigs crew on their London bus tour. A Routemaster bus, decorated in style, took us passed iconic landmarks with the wonderful Russell as our ever-informative guide.
As we made our way, we were treated to a hot cup of Earl Grey Strong, Apple & Cinnamon tea and scrummy tea cocktails (Super Fruit tea infused in water for a few hours, then topped with lots of Prosecco  - seriously make these at home!) All drunk alongside oh-so-pretty and oh-so-delicious teapigs chai-spiced cakes by Clean Cakes (I mean what's a 9 yr old party without cake? Or without an M&S dash for more Prosecco for that matter?!)
Happy Birthday teapigs and thank you - I've never been so happy to be sitting in London traffic.